Unfortunately we do not have a large body of pre-17th century Persian Embroidery pieces. Most pieces that do exist even in museums date to the 17th century. According to Phyllis Ackerman in "Islamic Textiles, A History" (part of A Survey of Persian Art), the only examples are a few tirāz bands where embroidery was used instead of weaving.
Persian Islamic textiles seem to have been divided in to two main sections, pre-Mogul Seljuk textiles (ending about mid-13th century) and the Safavid textiles (dating from mid-16th century until mid-17th). Now this includes all textiles not just embroideries, brocades, twills and plain weaves, etc. We know they had textiles and embroideries at this time period, there are records of exports and miniatures showing the use of the textiles. Marco Polo is quoted as raving about the quality of the embroideries of this time. But we can only guess what happen to all of them.
We do have a few pieces that have shown up in the last few years. Two of the pieces are in this handout, a Cloud Collar and an Embroidered Kamis. I have included several more scans of embroidery, one from the 16th and two others from the 17th. These are most likely done in Pattern Darning, I know that the 16th century piece is.
Working with miniatures can present some problems. Number one, the original size of most miniatures precludes a lot of detail. Now with that said I personally am amazed at the detail includes in Persian Miniatures. If you look closely at some of the miniatures you can pick out details such as Henna on the hands of the ladies.
It is also hard to tell if the decorations you are looking at are Embroidery or a Brocaded fabric. Some of the miniatures do give you clues though. One of the things to look for if you are trying to determining if the pieces are embroidered or not, is to see if the pattern is a balanced repetitive design. If it is then it is most likely to be Brocade not embroidered. Most of the embroidered decorations will be more in spot patterns or individual bands rather than all over patterns.
We will be talking about various miniatures. Looking where embroidery might be found to see what stitches and materials might be used. Unfortunately most of what I will be covering is supposition. I do not pretend to be an expert on Persian Embroidery. I am very much the student and will be constantly trying to find more information and new sources.
I am dividing the miniatures that I am presenting today into two main categories, Clothing and Domestics. Clothing will cover the coats with there Cloud Collars, as well as accessories such as handkerchiefs, headdresses and undergarments.
The Domestics section will cover everyday items, bedding, cushions, tents and even horse trappings. It will also cover the miscellaneous items like Embroidered Quivers for arrows.
What I am hoping to do in this class is to help you to see how embroidery could have been used in pre-17th century Persia. I hope it will expand your knowledge a little and if nothing else gives you a little insight into the way I think and determine things out for myself.
Dinah
4/04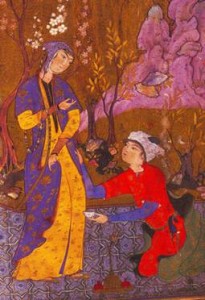 Figure 1
Clothing
The first garment anyone notices is the coats. Both male and females were multi layered loose flowing coats. One common detail in numerous Persian miniatures is a feature that has come to be known as the "Cloud Collar". The Cloud Collar is a decorative lobed collar covering the shoulders down on to the upper arm, dipping down in the back and the front halfway to the waist. It appears to be usually embroidered or appliquéd to the coat it self, not free floating. It shows up on both male and female coats, usually detailed in gold. The Cloud Collar is thought to have come from China with the Mongols.
There is one Cloud Collar in existence that I have seen a reference to. The book "Timur and the Princely Vision" is supposed to have photos and more details about it. I can not verify that I do not have position of that particular book; I only got to drool over it once at a class. But if you are not oppose to Yahoo Groups, the "sca-persian" list in the photo sections, under "Anahita", does have some scans. The one scanned is dated to 1400 to 1450 AD and is stitched mainly in Satin Stitch in gold and polychrome silk threads.
Another decoration that you will find on Persian coats is Bands of Embroidery. They are found around opening on facings, across the bottom of coats, about knee or calf level or down the front of coats. You will also find embroidered spot motifs on the backs of coats or across the shoulders or chest.
But coats are not the only piece of clothing that you will find traces of embroidery. Also to be found in the files of the "sca-persian" list is an article about a from Embroidered cotton Kamis that Sara Kuehn Islamic Arts was selling. The Kamis is a thin cotton garment, most likely originally white embroidered with black thread, most likely silk in Chain Stitch and Running Fill Stitch (Blackwork). The Kamis shown is most likely a undershirt and it is a miracle it has survived to this day.
And let us not forget the embroidered drawers. These were often described as benign so fine that they would fall apart after one nights wear. And yet they were often heavily embroidered.
In the miniatures you will also spot embroidered veils, headpieces and caps. Most of the embroidery is found bands around the edges, but occasionally it is found as more of all over design. Veils are of a white ground fabric some times sheer, this could be ether Linen or Cotton usually embroidered in bands of what look like Blackwork. The miniature below with the three ladies in it (figure 10), is one of the earliest miniatures with women shown that I have it is dated to approximately 1335AD. I love the sheer embroidered veils. My reconstruction of the veils is a oval veil with an opening for the face, similar to some wimples.
In one of the miniatures below (figure 2) you can spot a gentleman with a white cap on. This appears very similar to the caps worn at the present time to help keep turbans in place. I think that it would be a faire assumption that it was worn the same way.
Figure 3 (sorry this is not more detailed) is the first time I have noticed a purse or pouch that show the possibility of needlework. With the white background the design shows fairly well and the black border could be fringe.
The strange little kerchief worn by some of the ladies has the appearance of benign embroidered at times but at others it appears to be of printed fabric.
Two other items of embroidery that you can find are handkerchiefs and fans. The handkerchiefs appear to be made of a sheer soft fabric. Unfortunately for us, they are usually shown compressed and folded in someone's hand or belt. We do have a few examples of Turkish handkerchiefs showing designs mainly in a deep boarder area with reversible embroidery.
 
 
Figure 2
Figure 3
 
 
Figure 4
Figure 5
 
Figure 6
 
Figure 7
| | | |
| --- | --- | --- |
|   |   |   |
| Figure 8 | Figure 9 | Figure 10 |
 
 
Figure 11
Figure 12
 
 
Figure 13
Figure 14
 
 
Figure 15
Figure 16
 
 
Figure 17
Figure 18
 
Figure 19
11th Century Tiraz Tunic, Textile Museum
 
 
Figure 20
14th Century Embroidered Kamis
Figure 21
Embroidered Cloud Collar
Domestics
According to Marco Polo in the 13th century –
"The women and young persons work with the needle, in embroideries of silk and gold, in a variety of colors and patterns, representing birds and beasts with other ornamental devices. These are designed for curtains, coverlets and cushions of the sleeping places of the rich; and the work is executed with so much taste and skill as to be an object of admiration."
While studying the miniatures you can spot some of the type of items that Marco Polo was talking about.
In the bedrooms couples recline on cushions with coverlets draped across them. It is hard to say if the cushions and covers are embroidered fully. But from most of the miniatures it does appear that the borders are embroidered.
Figure 22
Figure 23
Figure 24
Tents and sunshades were appliqué and embroidered.
One other thing that I would like to call your attention to is some of the Horse trappings. If you pay attention to the hunting and fighting scenes, you can spot embroidered Horse blankets and pads. If you look hard I am sure that you can spot an embroidered saddle or two.
And the gentlemen on that horse will problely have an embroidered quiver for his arrows. One of the things I have spotted, in the "Topkapi, Textiles" book is a Embroidered Velvet Quiver and it is amazingly like the one in the picture below (Figure 25).
This maybe one answer to our dilemma of few pieces of Persian Embroidery left from before the 17th century. We have a lot more embroidery from Turkey preserved in the Topkapi and other museums. By studying the Persian miniatures and comparing them to actual pieces of embroidery from Turkey and other areas of the near-east, we may be able to approximate some of the embroidery praised by Marco Polo in the 13th century.
 
 
Figure 25
Figure 26
 
 
Figure 27
Embroidered Cover 17th Century, V&A
Figure 28
Embroidered Cover 17th Century, V&A
 
 
Figure 29
Embroidered Cover 17th Century, V&A
Figure 30
Pattern Darned Embroidery 16th Century, Budapest
 
 
Figure 31
17th Century Embroidery, Silk with metal
Figure 32
17th Century Chain stitch on Taffeta
 
Figure 33
12th to 13th Century Fatimid Embroidery, "Under Persian Influence"
 
Figure 34
Detail of Above Embroidery
 
Figure 35
Sketch of Winged Horse in Detail
Sources
A Brief Guide to Persian Embroideries, 1950,Victoria and Albert Museum
An Illustrated Souvenir of the Exhibition of Persian Art at Burlington House, London, 1931
Arts of the Islamic Book, Anthony Welch and Stuart Cary Welch, 1982, ISBN 0801498821
A Survey of Persian Art, edited by A. U. Pope, 1939
Islamic Art, Metropolitan Museum of Art Bulletin
Masterpieces of Persian Art, Arthur Upham Pope, 1945
Persian Painting, Five Royal Safavid Manuscripts, Stuart Cary Welch, 1976, ISBN 0807608122 / 0807680130
The Jewelers Eye, Glen D. Lowry with Susan Nemazee, 1988, ISBN 0295966777
Treasures from the Embroiderers' Guild Collection, The Embroiderers' Guild, edited by Elizabeth Benn, 1991, ISBN 0715202724
Topkapi, Miniatures, J. M. Rogers, 1980, ISBN 082216333
Topkapi, Textiles, J. M. Rogers, 1980, ISBN 0821216341
World of Embroidery, Mary Gostelow, 1975, ISBN 0684142309
http://groups.yahoo.com/group/sca-persian/
Illustrations credits
A Brief Guide to Persian Embroideries: Figures 27, 28, 29
A Illustrated Souvenir of the Exhibition of Persian Art at Burlington House: Figures 33, 34
A Survey of Persian Art: Figures 19, 31, 32
Islamic Art: Figures 22, 26
Persian Painting, Five Royal Safavid Manuscripts: Figure 3
The Jewelers Eye: Figures 5, 6, 17, 27
Topkapi, Manuscripts: Figures 1, 2, 4, 5, 7, 8, 9, 10, 11, 12, 13, 14, 15, 16, 18, 23, 24
http://groups.yahoo.com/group/sca-persian/: Figures 20, 21
Dinah Tackett, 2004: Figure 35
Dinah Tackett
Sayyida Dinah bint Ismai'l